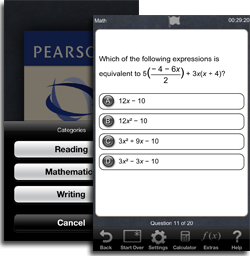 Reading, Writing, Mathematics
The Teacher Prep: Basic Skills mobile app may help you in preparing for the Test of Academic Proficiency (TAP) by offering a review of reading, writing, and mathematics content. Features include:
Sample questions with detailed explanations
Self-paced review or create timed tests
Detailed analytics—review quiz history, track category strength, monitor weekly progress
Free initial download; additional practice questions available with in-app purchase
About the App
This app consists of 60 multiple choice questions (20 per subtest) with correct response explanations. The questions are general, and will aid users in preparing for any teacher preparation examination of basic skills.
The questions can be answered timed or untimed, with results reported as the number correct by skill or objective. Also included is a diagnostic answer key option. Test results will be stored so candidates can answer the questions again after further study, if desired.